It was only on the day that we departed that I decided to go to Les Auberts from 29 April to 6 May 2016. We were not sure where to go for a week, somewhere close and with good routes. I wanted to climb an 8c. But a week is very short for working and ascending an 8c. That was part of the reason I wanted to go back to Les Auberts. I was there last year and I worked in an 8c there. I didn't do it though, but I knew all the moves. So we drove there.
Les Auberts is one rock surface. It's not a very well-known place but the routes are very good. The walk to the crack is not too long and not too hard. There is a little village of 7 houses and a church. Les Auberts is in the south east of France and close by there is a bigger village named Crest.
On a rest day, my dad and I went to Crest where we visited a castle of 50 meters high. It was very big and once carried the title of biggest castle. We walked around and went to the Intermarché to buy new bread to bake in our mobile oven.
The weather had been terrible the whole week long. It rained and rained, and the clouds were hanging so low. It was cold and my sleeping bag was for the summer and not this cold weather.
Every day, I would study and my dad would read. And every day I would climb in my 8c. The first day, I put in all the quickdraws and already did an attempt.
The last two days it rained and I took out the quickdraws that I hung in an 8a. I didn't do this route because my aim was set on the 8c. I always fell at the last hard crux. And it was always a stupid reason why I fell. My foot slipped or my hand or I didn't put enough pressure on the hold. I tried it four times till I had to go back to the car. It was frustrating because I only had one day left. And I was getting worried.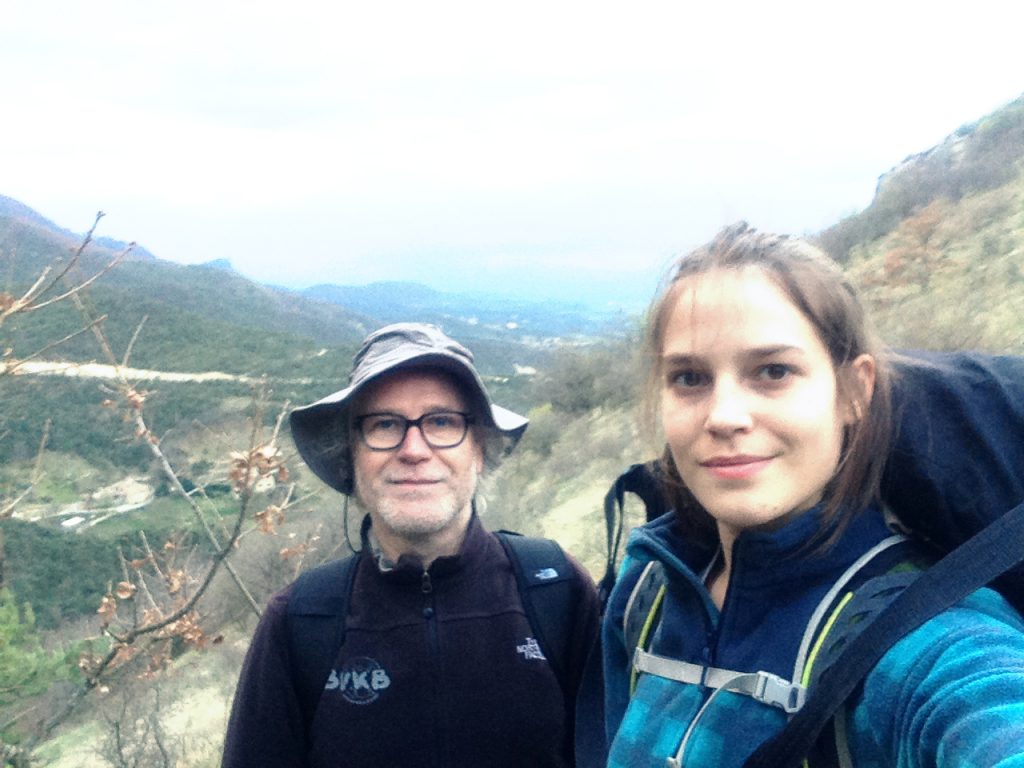 The day I did my 8c
It rained too much to do anything. So we stayed in the car and waited. When the clock struck 12, the rain subsided and we went to the rock. The wall was literally in the clouds. It was really moist, but luckily the routes were dry. I warmed up, took my rest and tried the 8c. I was almost there. One move and I would have had it. So close. But I was getting my hopes up too soon, because my concentration wasn't there anymore and I was already thinking of the top when I still had a way to go. I fell. I was very unhappy. It was my fault that I had fallen due to a stupid mistake. I'm sorry for the way I acted at that moment. Nothing more to explain than to try again. I said to myself that it wasn't over yet; it would only be over when the sun goes down and when there is no more light to see the next hold. So I put my mind at ease or as much as possible when it is the last day. I studied some more and then when my rest was over, I prepared myself. Telling myself that even if I pass the crux, there was still a chance that I might fall. So the whole route long I said to myself: "It isn't over yet." And for now that worked. Even when I was clipping the anchor, I was concentrated. Only after it was clipped did I smile and was I happy. And I did the 8c. J'accumoncelle la fatigue was its name. And I did it. With thanks to Dominique from Breendonkfarma who offered me some sponsoring from Etixx. Some extra energy for my tired muscles.