14-15 June 2014
Hi
Zizi Chalkdust
Let me introduce myself. I'm Zizi Chalkdust, the fly. I live in the Edinburgh Climbing Arena. It's an amazing place. Until these people came storming in. The arena filled with climbers, who would like to fly and walk on walls. I got slapped at more than 20 times. There were people everywhere and all of them had these things around their waist. I asked one of my friends about them and he said: "It's something called a harness. It's for if you fall off the wall, you will be caught in it and brought down to safety. You see they don't have wings. They're here to compete." I exclaimed: "No, that can't be. No wings, that must be terrible!" All those people came from all over Europe. I had kind of expected them, but not so many. The people who own the hall had been talking about it long before.
Belgians in Black
My eye fell on the kids wearing black T-shirts with a flag covering their entire back. I personally didn't like the T-shirts, but because of this huge flag, they were very noticeable. I watched them climb. Their country was Belgium.
Too Easy First Quali
Héllo, a girl of the Belgian team in the A group, topped her first route out of time and so did Céci. A lot of girls did that. It wasn't fair that Céci was the second climber and didn't know of the time. She climbed it in a very nice and calm way for fear that she might fall. She was really happy to have topped the route, but when she came down they told her that she had run out of time. She wasn't angry, but I was. First it isn't her style of wall and second, she climbed the second selection worse. Having seen that it was possible to top the route and that it was not so difficult, the following climbers started to climb faster and topped within the allowed time span.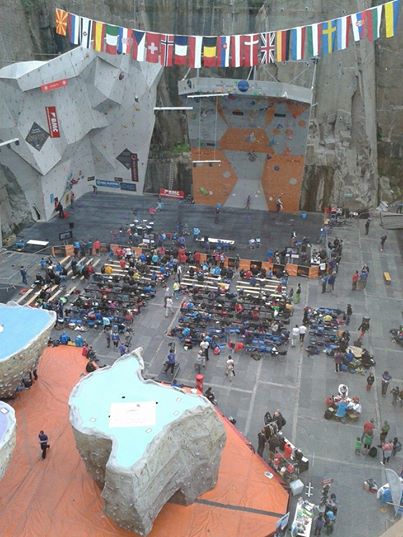 Nasty Crux in Second Quali
I flew closer to watch the second selection. I moved sideways to avoid a hand that was coming strait at me. Céci started her second selection. There was one move that was really difficult and where a lot of people fell. It was at the 4th quick-draw. You had to go up a long way and take something that wasn't super good. Céci arrived there and thought a quick moment and she said out loud: "Okay, just do it." Loud enough for me to hear, but not loud enough for the crowd. She went up and had it. She climbed on, not really thinking anymore. She wasn't climbing nice anymore. Two quick-draws higher she fell. That means no finals tonight. Back on the ground, she got a hug from Margot who got past the difficult move too. Héllo fell at the crux. She was very disappointed and cried heavy tears. They went out to calm down. Elfe and Cath had a good performance. They reached a 14th and a 16th place. It was a very good performance. Elfe, Cath and Céci went outside to do a death ride. It must have been a lot of fun trying to feel what it actually is like to be able to fly.
The Finals
They ate some sandwiches and went outside. It was a long time before the finals started. Time passed and the hall began to fill again with climbers. The finals were to start soon. And the Belgian team will cheer on their climbers who are in the finals. For the Belgian team is a team and even though they speak two very different languages they try to communicate and have fun as a team. Now who of the Belgian team is in the finals? Let me tell you. Because I am a fly I was able to get to the results. There are so many people there to look at one small piece of paper. Anak was placed first in the juniors' category and Harold 10th in the youth B. They got into the finals.
It was a lot of fun watching the finals. Anak had topped both qualifications and was the only one to top the final. She finally got her first title of European champion. I flew around and watched everything around me. Harold stayed 10th. It was a lot of fun and I enjoyed the entire event. When the competition was over, there was a podium and the national anthems were played. I heard the national anthem of Belgium for the first time. Anak had won the gold medal and had a big smile on her face. While the national anthem was playing no one sang. They probably don't know the text. But it was fine with me for everyone was happy. And so the Belgian team left leaving me behind to live my old life again.
See you Next Year Zizi
The next day, I saw them again in the climbing gym. They came to climb, mostly for fun, but they also did some of the competition routes and had a great time. So they did come back to say goodbye to the fly who flew around their heads all day the day before. I am so touched. I was happy again and the departure was painful. They all left with a longing look to stay longer in the arena. It made me cry. They already miss me and so do I.