July 2014
Chamonix in the Rain
The days drew nearer and I was trying to ignore them, until the morning that I had to pack my things. I couldn't stop chattering to my sister. I had been packing for an entire week. I was going to compete in Chamonix one weekend and the very next was in Briançon. So we stayed in France that week. Anak was going to do the same. I was also very nervous because my dad was going to be my coach for the first time. I didn't feel comfortable about that but I had no choice. I was going to a competition where my dad would be able to give as much comment as he wanted. I didn't know what to expect, but eventually it turned out to be not as bad as I thought.
We were sent off with just a simple hug from my mom that meant "go for it". My father and I went to Chamonix together, in our Land Rover. I studied part of the way. My dad and I listened to some music and the road was long. I daydreamed and listened to some more music. Then we arrived at the place where we would sleep and the next day we would drive some more hours. Anak's dad and my dad had decided to sleep at the same place, so I texted Anak to tell her that I was already there. And she sent back that they were almost there. We camped along the way next to a river. Anak said: "We used to come here and jump in the water, because it was too hot." But I guess not today. It had been raining the whole way. And now the river was flowing so fast that if you would go in you'd be gone in a second. The current would pull you down. It looked like the water had gone wild. The next day we drove the other half of the way. Anak rented an apartment and my dad and I we went to a camping site. At 7, I went to a technical meeting for the first time. It was so cool. There were mini pizzas and orange juice. I liked it. All the coaches of the best climbers in the world were there, all in one room. I looked around. It was in a very big room and everybody was talking to each other. We went to bed early. I was very nervous. This would be my first competition among the adults and the first World Cup I was to see in another country.
First Quali
It was very early when we went to the climbing area. I was fascinated by what awaited me. The climbing wall was built on a square. It was so cool. We went to the warming up zone, which was in a sports hall. It was okay. It was a long walk to the gym, so there was a video playing to demonstrate the routes. Some climbers wrote down how the routes had to be climbed. I warmed up and when it was my turn I went to the competition wall. We had to go to the back of the wall. I sat down on one of the chairs and my dad stayed with me. I was really nervous. And I kept smiling. I was thinking all the time: "Here I go, I am going to compete in a world cup." I never thought it would go so quickly. Then  it was my turn to climb. It was a nice wall. There were a lot of people watching. I took the holds, put up my left foot and set off. I went really high and at a certain moment I was tired and fell. I was happy. While falling, I looked around. This was my first world cup for adults. I took in everything. I knew I had done well for my abilities. I was glad it was over and at the same moment I wished it would go on for hours.
Second Quali
After the first selection, we went to the car to rest and have a break. We ate a little bit, but I was so nervous I almost couldn't eat. I had to force myself to eat. On time to warm up again, we made our walk back to the climbing gym. I warmed up and Wim sticked me. Then all at once, it was my turn to climb the second qualification route. Wim wished me good luck. Anak wished me good luck and I wished her good luck too, because she had to climb before me. I went back to the chairs behind the wall and my dad stayed with me to keep me company. The second qualification was more difficult. There was a place were you had to turn around and I did turn around, then you had to take a hold with both hands. I couldn't go in a static way. So I made a dynamic move. And fell. For today it was over. I didn't know for sure if I would be in the semi-finals. I hoped so. My second route wasn't bad but maybe not good enough. We waited until the results came out. I was in the semi-finals. My day couldn't be happier.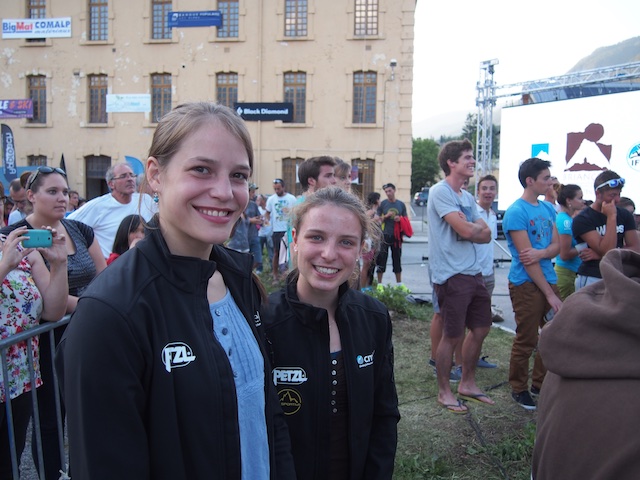 Semi-Finals the Next Day
I was in the isolation with all those super famous climbers. I was looking around and eventually also warming up. It was difficult, but I finally got warm. Now I had to rest. When reading time came, I had to take my stuff with me, for I was the second to climb. I read the route with Anak. I stayed in the chair when the others went back to the gym. I had to wait a long time before it was my turn. I climbed and I fell. I was so happy. I might have been too nervous, but I was so happy that I was in the semi-finals and had become 25th.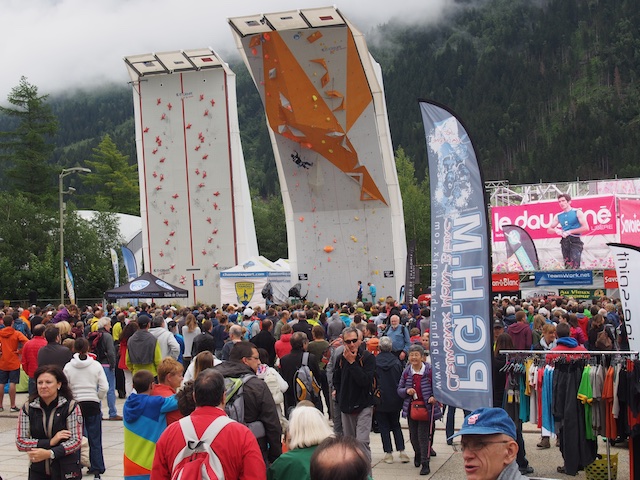 In-Between Two Comps
The competitions in Chamonix and Briançon were only one week apart. With Anak we went to a climbing gym. As we entered the gym, I recognized it. I had been there before, when I was on a camp with Klimax in Orpierre last year in autumn. Back then, it had been too rainy to climb on the rocks.
We went to a lake to rest. It was really nice and warm, every hour or so we had to jump in the lake to cool down. There was a tree were we did some power exercises. And when it was time, we went to Briançon.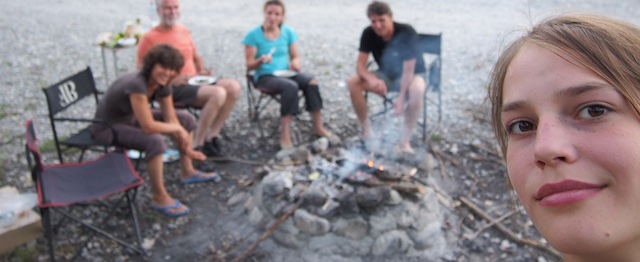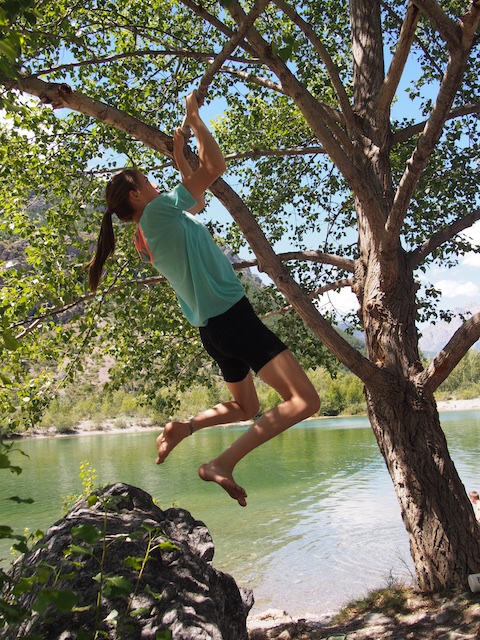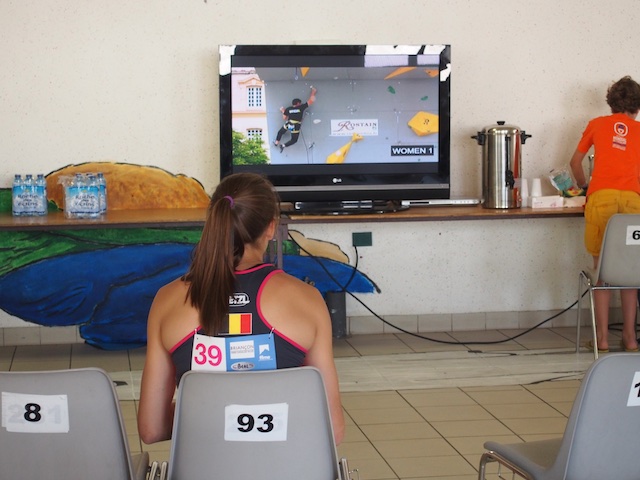 Briançon
Briançon was different. I didn't climb as good as in Chamonix. My mind wasn't in the competition. So I climbed as if it wasn't so important. My selections were not good. So I didn't reach the semi-finals. My dad bought me some wooden holds for on my little climbing wall in our garage at home. They are so cool. I was happy that I had competed in a world cup for adults. My dad had to work, so we went home early, much against my will. On our way home we listened to a story and some music and we stopped at the same place as when we drove to Chamonix.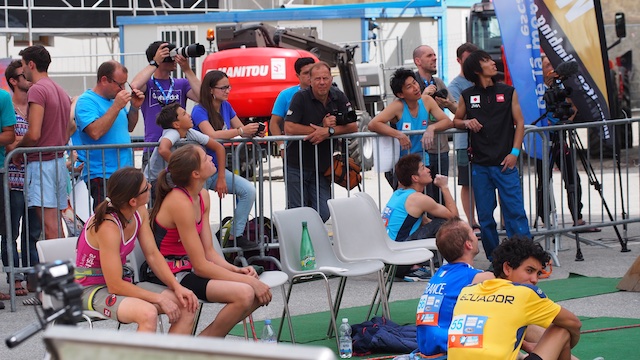 Imst
But this was not yet the end for two weeks later, my dad and I went to Imst. I could choose if I wanted to go or not, but I wanted to go because my last competition in Briançon wasn't too good and I wanted to fix my faults. And I did more or less.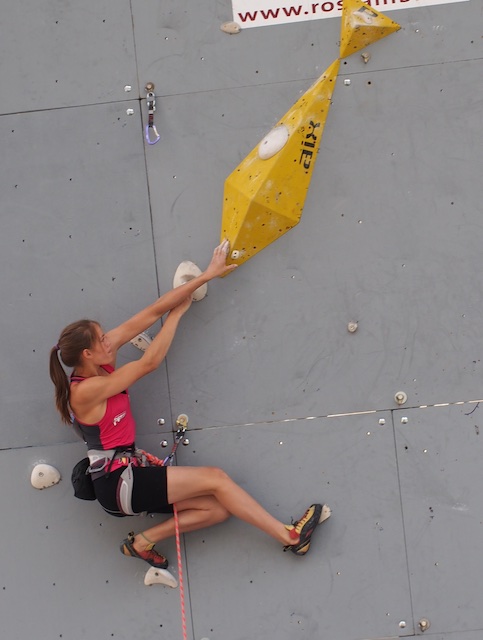 The first qualification was a red route in the middle of the wall. It was technical in the beginning and it ended in the overhang. I started half good and somewhere in the middle of the technical part, you had to do a foot switch on a volume which made me loose balance. I began to shake and fell. This was the bad route. The second qualification went a lot better. This route was entirely technical and required endurance. Although this is not really my type of climbing style, I studied the difficult parts of the route thoroughly and made no mistakes in the difficult parts, but I did make mistakes in the easier parts. The first difficult move was a far pull-up on a bad foot hold. I made it and said to myself, now I have to pass he next crux. Although it was difficult, this wasn't really a crux, but someone had fallen there, so I considered it had to be hard. I passed it, but I fell two quick-draws higher at the next hard move. There was a good, big hold for the left hand and you had to swing to a volume, but I was too pumped. This required endurance. I became 31st lacking a little bit in the first qualification to make it to the semi-finals.