Third Rocks on Tour Event
Rocks on Tour is becoming a traditional. It started in 2011 with a series of three competitions in three different parts of the country, one at Hotton in the Ardennes, the second, on the beach of Westende at the Belgian coast and the last, right in the centre of Antwerp overlooked by the statue of Rubens against the backdrop of the Cathedral and the Hilton Hotel and also in my backyard. The following year the adventure festival Go Wild in the Ardennes was cancelled as well as Rocks@Hotton.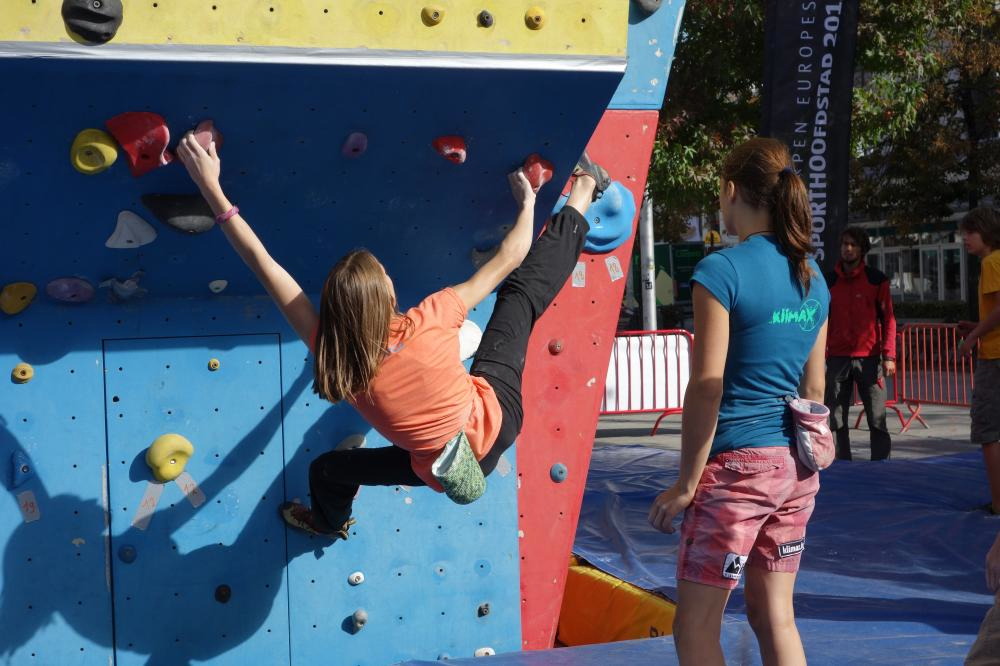 Yippee Rocks@Antwerpen in My Backyard
Rocks on tour settled down in Antwerp on 28 September 2013. As it is the only competition I can go to on foot, no matter what, I was going to compete, even though I'm not so fond of boulder competitions. I didn't have to wake up too early. It was still chilly, but the sun was already shining. Although I live only five minutes walking from the Groenplaats, I didn't want to go on foot so we took the bike.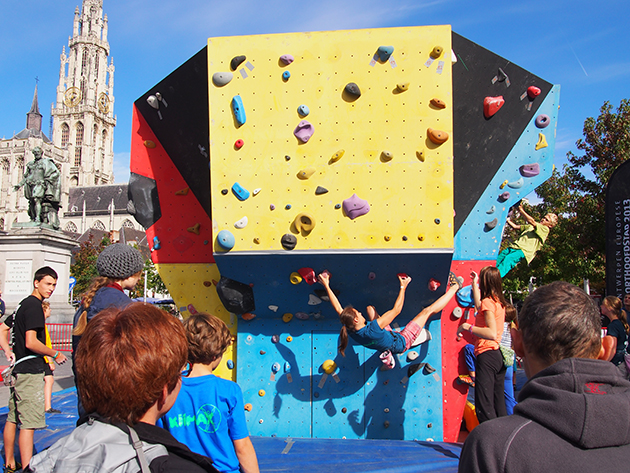 27 out of 30
The start was as usually so irritating. All the little children were pushing ahead, which I really hate. When you had a project, you had to show very clearly that it was your turn, otherwise you could wait until time was up. When I was finally ready to climb a hard project, I took a look at a black route. I thought I could never do it, but it was worth a try. Since Liselotte had said that I had to try it, I knew I could do it. It was a route on the strait wall. In my second try I fell at the last move. Elfe and I were working out the last move. It almost seemed impossible. Not losing hope, I began looking for another way. Elfe tried another black route. Then I found a solution. I did it. At the end of the 3 hours time, Elfe tried again, but it was already too late. In the mean time, I went to a route Nils was working in. This was a boulder with a knee bar, but the knee bar wasn't useful. In this route, I didn't have to search a lot. I like searching, but not for too long. After doing this one, I wanted to try one more route, but this one was all too difficult and my spirits weren't high. But at least I tried and fell one move lower than Jasper. He started boasting to all his friends that he could do a move I couldn't do. Afterwards, I managed to do the move anyway. In the end, I solved 27 of the 30 boulder problems.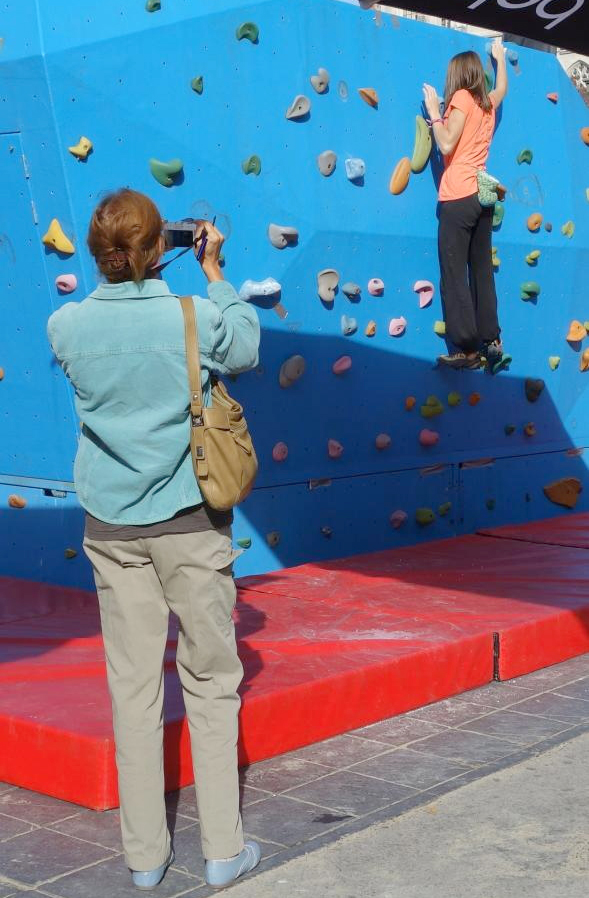 Rubens is Watching Us
Although the podium was set up in front of the bright blue pepsi MAXI boulder block, it was not exactly on the right place. It would have been more distinctive with the cathedral and Rubens as background.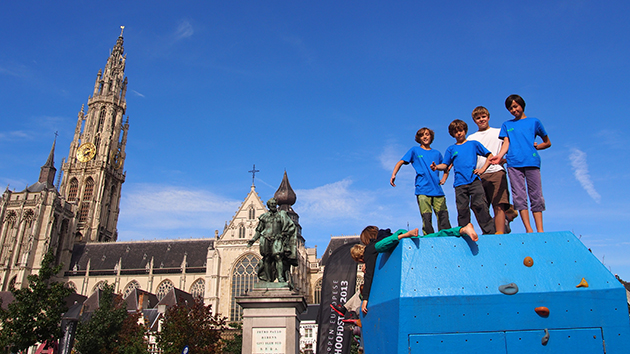 I came out 1st with 6403 points, Elfe Claes 2nd with 3403 points, Rafflesia Reyniers and 5 others were 3rd with 2403 points each. In the overall ranking I won silver while Rafflesia got the gold medal, having gathered 7731 points and a first place in Westende on 7 September.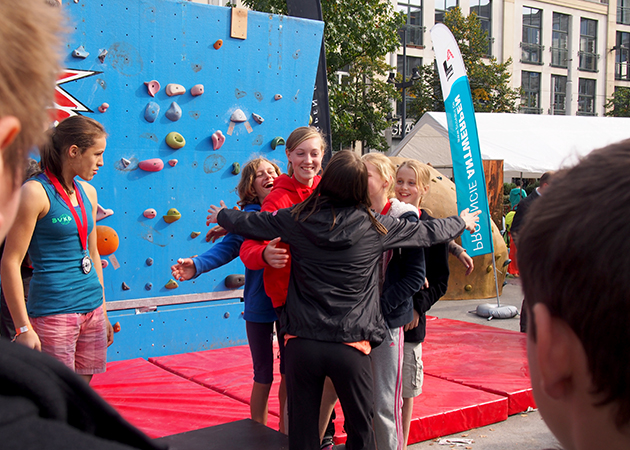 Drytool at Klimax
In the afternoon, Nils and I drove to the drytool competition in Puurs. My dad had promised Jurgen that I would compete because there weren't enough women. First, I drytooled just to practice. Then the competition started. The men had to climb the same route as the women. I was really nervous. I saw strong guys drop their axes. I watched Nils climbing high, so I knew that I could get there too. I climbed till the place where Nils fell, only he had two hands on the hold and I had only one. He was really happy about that. Just like Jasper, they are all really happy when that happens.
The sun was still shining, but the wind was blowing quite strong and cold. We were watching the competition, lying on a raft made of the tube of a huge tractor tyre and tried to keep warm under blankets and sleeping bags. The hamburgers made by my dad and Jurgen's parents also warmed us up a little. My brother was there too, making PICTURES as usual.