Reduced Team
Due to the school finals at the end of June, the Belgian team was reduced to me, Maëlys Gillart, Anak Verhoeven, Koen Baekelandt and Loïc Timmermans. Our coaches Christophe De Potter, Tijl Smitz and Liselotte Debruyn took us by minibus to Voiron, a village in the French Rhône-Alpes near Grenoble. Maëyls' mom and Loïc's parents also went to this second European Youth Cup to cheer us on.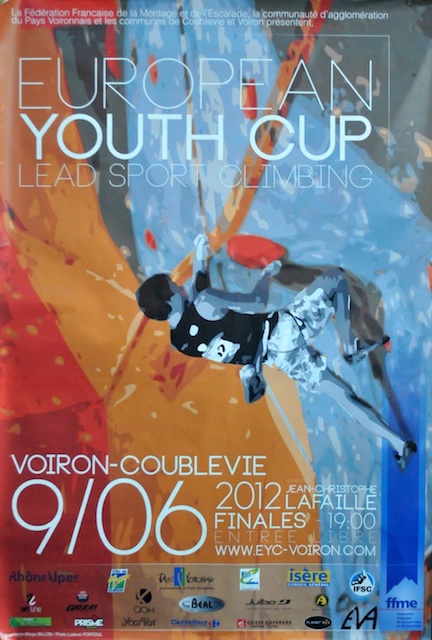 On the way there, I penciled a tree. Anak also wanted to make a drawing, so together we started sketching the river by the bridge of Sadernes. This is where we used to go swimming in the summer when we went rock climbing for the first time together two years ago. By the time we arrived, I was fast asleep. Anak had tried to wake me up because I wanted to see the surroundings, but all her shaking me was in vain.
As in Edinburgh, I shared the hotel room with Anak, but this time we didn't get lost in the hallways. The door of our room opened using a swipe card. Should we lose the card, we could always try to get in Mr. Bean style. Whilst we were arranging our room, the parents went looking for a restaurant in the old village centre where all houses had shuttered windows. When we finally arrived in the restaurant, we were very hungry. We wolfed down the prawn crackers and the parents even handed us theirs. The duck with pineapple was delicious.
J'aime les Belges 
Saturday morning the girls had a lot of time, but I was already awake at 7 am. The stress was already building up inside my body, but I stayed in bed until 8. By 9 we had breakfast. I tried out everything, but the pastry with pink sugar sprinkles and the tarte au sucre were the best. Right in front of our window, Old Timers were cruising. We still had an hour to watch the cars pass by. One of the car owners said: "Regarde les filles" and opened the trunk to show us the big couch he had installed inside. It was time to walk over to the climbing gym. Everywhere in the village were bill boards advertising the competition. Upon our arrival, Loïc had already topped both qualification routes. We could only watch Koen climbing his best in his second route. I still had to wait for half an hour, so I filled in some sudokus.
Hurray, time to warm up. My first qualification was the yellow route on the right-hand side of the wall. I climbed very well until the last but one hold. Christopher Hardy, France's famous man at the mike, said he loved the Belgian team very much and especially Chloé "la fée Clochette" Graftiaux who died on her beloved mountain in August 2010. I was almost the last of my age group to climb the second route. Almost all the other Belgians had gone back to the hotel, except Tijl and Liselotte. I had misjudged the route, making my climbing much less focused. The big holds looking like buckets, weren't easy to grab at all and the small holds looking difficult, were very good pinchers. I didn't like this route. When I reached the roof, I made a mistake by sticking out my feet in the wrong direction. Hanging on my arms, I turned around my legs and could put my feet back against the wall to crawl out of the roof. After all, I still managed to struggle through the roof, but having lost too much energy, I could only grab a few more holds before falling. Christopher's warm voice sounded through the gym as my belayer slowly let me down. Always sympathizing with the climbers, he was hoping this would still be good enough for a ticket to the finals and it was not bad at all, being ranked sixth.
It was a very long day. The isolation too lasted very long. First, the boys had to climb, then the girls. It was very late before it was my turn and I was already exhausted. Nevertheless, I always enjoy competitions very much. Warming up in the boulders I discovered four no-hands kneebars. Tijl had found a shuttlecock and we started playing badminton with our hands. An Austrian girl was watching us, eager to play too. So I started playing with her.
Whew! Line up and observation time. I studied the final route together with Molly and Solène. When it was finally my turn, I was already worn out from nerves. Having found a no-hands kneelock, Christopher became very enthusiastic as well as the audience. Happy to have been able to clamp my knees and releasing both hands, this gave me a boost, but also made me reckless, climbing too uncontrolled. I had lost my concentration and slipped a little bit higher trying to clip in the rope. This was merely enough for a tenth place. Stasa Gejo won, Solène Amoros became second and Franziska Sterrer third. I helped yelling Anak to the top and after the podium ceremony I was completely wrecked. Anak won gold and Loïc silver because he was slower although he was definitely the better climber. This stirred up a lot of discussion about the new rule to avoid ties and superfinals. Back at the hotel, Anak, who is always very hungry, still ate a few sandwiches, but I went straight to bed.
More pictures at Photo Gallery Denis Timmermans