Friday
I'm leaving for Edinburgh, Scotland. My first international competition. I am very nervous. I wish I could look in the magic mirror …
We meet with the South Belgian and the North Belgian team members in Charleroi at 4 o'clock for a two hour flight to Edinburgh. I still had to get used to the pronunciation of 'Edimbourg' by our French speaking team members and the Scottish though.
Oh! I almost forgot: "Happy, Happy Climbing Games."
"And may the odds be ever in your favor."
Effie Trinket
Saturday
And the magic mirror has spoken: 2 x top in the qualifications. This means that I'm in the finals tomorrow. Two other girls of my age group managed to have two tops as well.
The first route was specially made for me. Lots of big holds and a large overhang, just like climbing in Klimax II. The second route was much more difficult for me. Tiny holds and more technical in a light overhang. I already struggled with the first clip and panicked a little, but composed myself and started climbing more concentrated. There were also lots of little structures in the wall of which I made good use. I liked it very much because they made me think of finding holds on real rock, which I had recently practiced when I was in Saint-Léger-du-Ventoux, France with my trainer during the Easter holidays. At the end, I was very tired and my arms hurt. The rest of the day, I was hanging in a chair and even in the short drive to the hotel I nearly fell asleep. Papa called me and advised me to go to bed before 9.30. I share a room with Anak Verhoeven and we are both in the finals tomorrow, so we performed our self invented little dance and laughed a lot. The bath was also fantastic, with lots of hot water and I could stretch my legs completely.
Results of the qualifications can be found on the IFSC website.
Sunday
Tijl knocked on our door too early in the morning. Anak was already in the shower, so, I pulled myself out of my bed reluctantly to open the door. Not much later I realized that today was the big day and we all had breakfast excitedly. The entire team was very happy and proud of our performances. After all, no less than five Belgians had made it to the finals: Sébastien Berthe, Loïc Timmermans, Anak Verhoeven, Chloé Caulier and myself. We had a great time in the isolation zone. We chose the area for babies and played some baby games. I did not have to stay very long in this area. The final route was very hard and I had not yet completely recovered from warming up. Nevertheless, I was not totally pumped when I fell at 23+, but the pass was too difficult to take from the shoulder anyway. This was however good enough for a third place. Margot went almost crazy now that we had scooped our first medal. Stasa Gejo from Serbia and the French Solène Amoros were able to pull this shoulder pass. Stasa went on to hold number 29 whereas Solène fell at 30+. On the podium, I was wondering how many kisses Solène would give, so I suppose my reaction must have seemed a bit awkward to her. In Belgium we give either one or three kisses. I thought she would only give me one kiss, so when she stretched out her head to give me a second one, I had already withdrawn. I quickly bowed forward again. Now, I expected her to give me a third kiss, but when I was offering my other cheek, she had already turned away to congratulate Stasa. This made Liselotte burst out laughing.
End of game for me. "The anthem plays," apparently also at the end of international climbing competitions, but I already jumped off the podium, so I had to climb back on, followed by another fit of laughter by Liselotte. I guess this is what happens when you're still young and unexperienced.
Of the five Belgians, three ended on the podium. Anak won a gold medal, Loïc and I both won bronze.
My first international competition and winning a 3rd place is more than I had expected. I'm so happy to be on the podium!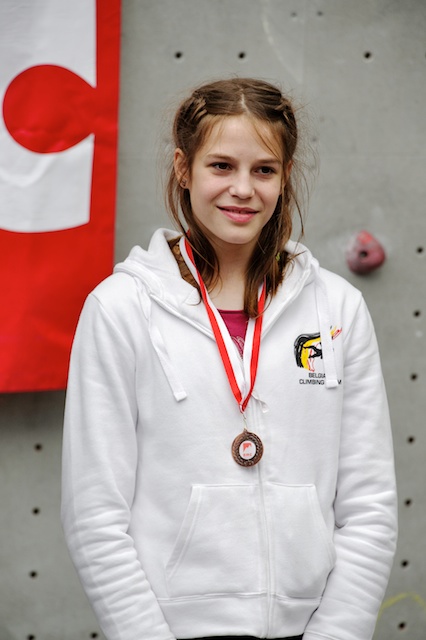 Nice gedaan Celine !
Jurgen Lis