I was happy when we started our journey, but along the way I had to deal with a lot of emotions. I guess it is the same with everyone else, yet I still think I am the only one who has to deal with all these emotions that sometimes just become too much to handle and then I become the unhappy me who gets annoyed too easily and that can't stand people. I have become her once in these two weeks that we were away. You can't avoid it really. You do a good route and a very bad one. You are happy and you are sad all on the same day. Then you feel ignored, and then you feel like you get too much attention, all at the wrong time. Then you don't get any approval when you are good and the only thing is that you get scolded when you did bad. You get compared all the time, in your good and in your bad ways, but mostly the latter. How can one deal with all that and still be happy? I asked myself that and I couldn't. So, one day I overflowed and I let it show 'cause I couldn't hide it. I was selfish that day, but sometimes you can be selfish. As long as you compensate for it afterwards.
So, what happened that created the unhappy me? First I must say that this story isn't about the unhappy me. That happened only one day.
Happy me was driving to Chamonix, enjoying herself. Chamonix was the first World Cup competition for adults this year. And I was going to be part of it.
I have not much to say about Cham. The routes were hard, a lot harder than last year and I didn't get to climb much on them. In the first route, I was so nervous I forgot the whole route. I climbed and made mistakes and fell early. I wasn't that sad though. I was prepared for it. The second route was better. I didn't forget it and I fell on a slightly more difficult move. I wasn't sad either as I didn't have many expectations after the first route.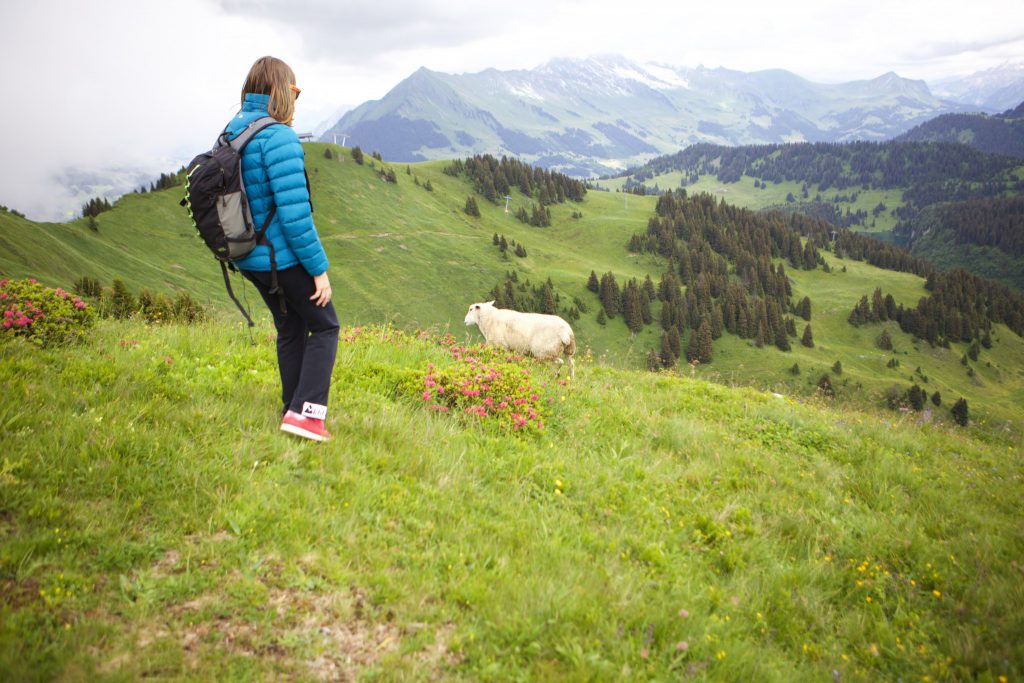 The finals were amazing. Great to watch and great to support. My big sister was there and a few of her friends were there too. It was great. I had a lovely time and my best friend, whom I have to contradict one part of this story with, climbed amazingly. She topped the final route and it seemed as though she could climb the route again. Another competitor topped it too, but based on the count back she was better. That day, I went to bed with a sore throat.
The next day, we picked up some Australian climbers and trained in the climbing gym with them.
There were only two days between Chamonix and Villars. And when we arrived in Villars, it was raining cats and dogs.
Switzerland is expensive, so we bought all are food in France.
During the competition, we were lucky with the weather. In the first route, I fell because I didn't go for it one hundred percent. I always have this thing that I don't want to fall and because of that I don't take any risks. The second route went better. It was cold and my fingers were freezing. But I was good in the route. Too bad I decided to not jump up and instead put my right hand together with my left hand. Which is why I fell.
At the finals, I met some Belgians who were on a holiday in Switzerland and came to support our Belgian star. I came to meet them at the climbers' presentation, when Anak's name was called and almost half the public applauded and screamed for her. I was surprised to hear the people right next to me scream out. I chatted with them about climbing and explained the system. Anak ended second again. This time she fell at a boulder move.
Switzerland was over and we took the Australians back to Chamonix and trained in the gym. I took my first real shower in a week. Don't worry, mom, I did wash up.
It was the night from Switzerland to Chamonix, when the Australians were asleep, that I realized how unfair it all was. How some people skipped the queue in the gym and I was in no position to complain. I could only look the other way, with a sour expression. If I were even half as brave, I would have looked her straight in the face and lifted my eyebrow. And if I were even braver, I would have said something, anything. During the car ride to Chamonix, when it is dark and my thoughts can run wild, I asked my dad questions and got answers I did not like. Life is so unfair.
Is it fair that only the best get the best? That there is a natural selection in everything we do? The top 8 hang out with each other and the 8 after that hang out with each other. And so on. But once you become 9th you won't belong in that group of 8 anymore. And they don't talk to you anymore. They won't even say hello. So you're on your own. And it's true. You don't belong. It's not intended that way, no. It's natural selection. You hang out with those who are equal to you. You don't hang out with the kids from 7th grade when you're a 1st grader. It's natural. You won't notice it either, only those few that are 9th. They notice. They are the ones that have to change their social circles until they're comfortable again. It takes time though. And I am one of those. I might know someone who is one of those too. This was partly responsible for what made the unhappy me. Because these two weeks that I have been away, I realized that even if I come in contact with the top 8, that I am a stranger and that I don't belong. It makes me sad that I can't be friends with everyone as easily as it seemed when I was little. Anak is one exception though. She has been my friend already from when we were little.
When are you most happy with yourself? When people you love praise you. That is my answer. It might not be yours. But it is mine and this is my story. I feel very happy when people say to me that I did good. And I try to always do good, to get people to praise me. To build my self-confidence mostly, which is an important factor in climbing. But if nobody praises me and if only my dad can praise me with always someone to contradict his praise then how can I still build my self-confidence, if life is always a competition? I hate competitions.
That was the day that I overflowed. And during the day, it only got worse. I started to make small things big. You should never make a small car seem big. Or a big car seem small. It'll get claustrophobic. And I just needed some air. Hard to get when you're stuck in a dusty gym.
A good night's sleep and all is fixed. Helps when you're just away for two weeks.
We trained very hard and did some campusing. I really must train harder if I want to become better.
Still two days until the selections of the third World Cup in Briançon. So, we went to the lake and I was baptized. I feel alive again. Recharged and back to the happy me for my family. For my baptism, a few of our Belgian friends were there too and they congratulated me and wished me luck for this weekend.
This time it was also raining and the weather was terrible and at 5 in the morning there was even a storm with thunder and lightning. But by the morning when we had to climb it was all over like a miracle.
My first route was good. I was really happy with it. And I got some lovely advice from the Swedish coach Nicky. It was like my dyno all over again. Though this time it ended in the first selection. The second route was terrible. I climbed 55th and in that route I ended 55th. It's a shame really.
I was ready to go home. I missed my sisters, my brother, my mother and the dog. It felt like Taiwan again. When my sisters went home and I stayed behind only with my dad and a friend. I really need my family. I depend on them too much. I love my family.