Saanich, Vancouver Island
16, 17 and 19 August 2013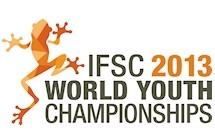 This competition was so stressful. We had to be at Zaventem Airport by 4 o'clock in the morning and we had to change flights in Amsterdam and Seattle. From Seattle, we flew to Victoria. On the second plane, there was a lady who wanted to pass through the aisle, but Nicolas was in the way, so she started: "Scuse me," but Nico hadn't heard her. So she repeated: "Scuse me!!!" From then on, "Scuse me" was the word of the week. The last plane flew low above the ground, giving us splendid views of the islands from above. Some of the islands were completely built over, others had only a few houses, the bigger islands were mostly covered in forest. There was also a funny island with a lake in the middle surrounded by houses. We rented a car and drove through Victoria, along Elk Lake to our hotel. The hotel was very luxurious, we had double beds for everyone. I'm used to sharing a double bed with Anak, but now we had one for ourselves.
The next day, we did nothing. It was a rest day, but we didn't wake up too late. We ate breakfast and played cards. Two weeks before the competition, I started going to bed one to two hours later every couple of days to adapt to the 9 hour time difference with Vancouver Island. The last days in Belgium, I went to bed at 6 a.m. And it worked; I had no jet lag at all. But I had one when I returned.
Selections (day 1 and day 2)
My first selection was a technical and short route. Although it was quite easy, I had to be very careful, especially at the end. I had seen other girls fall doing the last move. This made me afraid to fall too. I said to myself not to cheer yet but to stay calm. The last hold was tricky, so being careful, I managed to top it.
The second route on the second day was more difficult and ran into the overhang. I fell at the last hold, which was a volume. I still had to make a move to clip the last anchor point, but I held the volume too low and this made me fall. Four other girls topped this route. After the selections, I was ranked 5th.
Anak topped both selection routes. Her second route was my first. All Belgians qualified for the semi-finals (the 26 best)!
A Welcome Rest Day
On Sunday, the speed competition took place, so we had a rest day. Our coaches had arranged a fantastic trip for us. With a speed boat exclusively for our team, we set out for some whale watching. We were right in the middle of a 6D nature film. We had movement, smell and taste on top of the usual 3D-experience. Sea birds, killer whales, seals and even the bald eagle honoured us with their presence. Our captain fished sea weed out of the water, explaining us how healthy it was and made us taste it. Farther at sea, we looked for the fins of sleeping killer whales regularly breaking the surface to breathe. Absolutely breath… taking.
Semi-Finals, a Close Shave
The semi-finals already had to be climbed on sight, which meant we had to go in isolation. Margo Hayes, an American girl whom I had met together with her friend Izzy, two years ago in Rodellar, asked me whether I wanted to swap my jacket with Izzy's. Margo had also brought Izzy's, because Izzy wasn't there, so she had asked Margo to switch it with mine, but I still needed it until after the finals. I had to climb fifth to last. The first part was rather technical on the straight wall. There was a volume on which smaller girls could sit down, but I was too tall, so I stepped over it. Then, there was a small roof and then again a technical part on a triangular volume. I was not in balance to clip the quick-draw, so I decided to move on, but it only became more difficult to clip in. I fell one movement and a half farther. Still four girls to go. This was very nerve-wrecking for my mama and papa, because I ended up eighth and only 8 could go to the finals.
Anak considered her route in the semi-finals the ugliest competition route she ever climbed. It was a very illogical route. She managed however to reach hold 45+ in the roof. Jessica Pilz from Austria got a little bit more out of it (46+). Anak was very happy to be placed second, because she could have fallen much earlier. Loïc just missed the finals with a 9th place. One positive move would have made the difference. Emilie, who was ranked 9th after the selections made an unlucky technical mistake at hold 8.
Happy to be in the Finals
I was less stressed to climb the finals. I wasn't used to climb semi-finals and finals and I could no longer lose places. The first part up to the volumes was rather straight and not too difficult. I fairly easily got up to the volumes that looked more like a boulder, but at the third volume I already fell. There were two marks on it. I held the volume at the bottom mark and pulled up to the top mark but couldn't hold it. The mark made me believe it was a good hold, but it wasn't. Everybody thought this and therefore four more girls of my group fell at this volume. I neatly stayed 8th due to the count back. Margo, who was in a leading position, fell at the same place, so she finished 7th. She was very unhappy, but when I gave her my jacket, she cheered up again.
Anak had to climb the same route. In the very confusing middle part with all the volumes, she decided not to hesitate and jump from volume 3 to the left eye of a green frog head-like volume. She struggled through the weird part, wandering why some useless volumes were there, unless to make you pumped and fall. In the roof, she got to hold 48+. Jessica also fell at 48+, but after count back, the title of World Champion was hers.
Stress Relief
The podium ceremony was followed by a small party. We went back to our hotel to eat. Shortly afterwards the Swedish and Norwegian teams paid us a visit. We talked a lot and played cards. No one really felt like sleeping, so we started playing tag in the night. Competitive as we are, not wanting to lose, we ran very hard. The next day we even felt it in our legs.
Flight Back Home
When we landed in Amsterdam, Anak and I asked if we could have a look at the cockpit and the captain was so kind to let us in. He explained a few instruments and we could hold the control lever. We enjoyed being board captain for a moment. In Zaventem, our parents were waiting for us.
Results of the Belgian Team
Anak Verhoeven: 2nd (female youth A)
Celine Cuypers: 8th (female youth B)
Loïc Timmermans: 9th (male juniors)
Chloé Caulier: 19th (female youth A)
Nicolas Collin: 20th (male youth B)
Emilie Guérit: 27th (female juniors)
For more photo's (Yves Guerit) click here