Restaurant Orpierre
Steun de Klimax wedstrijdteams
Onze wedstrijdteams presteren zowel nationaal als internationaal zeer goed. Lees daarvoor hun avonturen op dit blog. Dit kan echter niet zonder een degelijke training, een perfecte klimzaal, heel veel inzet en discipline, aanmoediging en vooral de onvoorwaarlijke support van de ouders. Dat dit alles een hoop geld kost is vanzelfsprekend: tot vier trainingen per week, tot 20 uur hard werk, vele kilometers over-en-weer rijden per week, uren wachten, buitenlandse stages en internationale wedstrijden.Sommige slijten tot 5 paar schoenen per jaar.
Om de oplopende kosten voor de trainingen binnen de perken te houden hebben de ouders van de wedstrijdteams dit initiatief opgestart. De gelden zullen gebruikt worden om de financiële druk op de club en de ouders te verlichten. Het zou jammer zijn dat sommige topklimmers aan bepaalde wedstrijden of trainingen niet kunnen deelnemen omdat het financieel niet haalbaar is of dat de club gas zou moeten terugnemen in de begeleiding en ondersteuning van de jeugdige topklimmers.
Promotie en technische ondersteuning
Maar ook de promotie en technische ondersteuning van de teams en professionele trainers kunnen een duwtje in de rug gebruiken. Onze jonge atleten hebben aandacht en aanmoediging nodig zodat ze zich permanent kunnen/willen blijven motiveren voor de zware trainingen. Ze dromen dan ook van een internationale sportcarière. Help hen deze droom waar te maken.
De affiche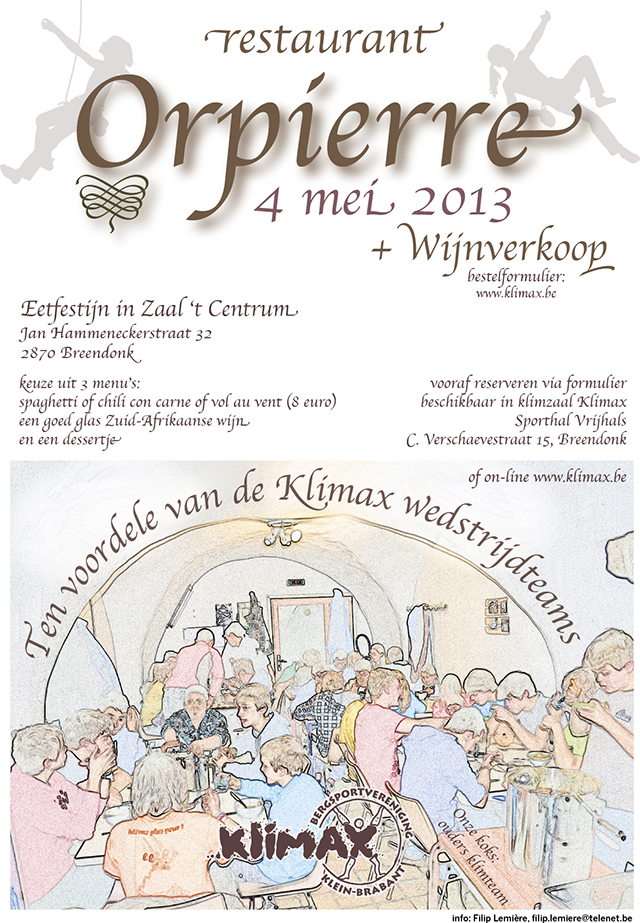 Op 4 mei kan je in Zaal 't Centrum in Breendonk mee komen eten in 'Restaurant Orpierre'. We serveren spaghetti, chili-con-carne en vol-au-vent. Om te eindigen zijn er diverse desserts verkrijgbaar. We serveren een heerlijk rood of wit wijntje. Inschrijven kan je door het inschrijvingsformulier af te drukken en te bezorgen aan een van onze klimmers of af te geven in Klimax. De formulieren kan je ook vragen aan een van onze klimmers of in Klimax afhalen.
Wijnverkoop
Wie niet kan komen op dit eetfestijn kan ons ook steunen via onze wijnverkoop. We stellen twee heerlijke Zuid-Afrikaanse wijntjes voor:
Cape Avocet (Chenin Blanc)
Zeer jonge frisse droge witte wijn
Aantrekkelijk groen getinte kleur met heel veel tropische geuren
Cape Avocet (Ruby Cabernet)
Lichte, fruitige Ruby Cabernet  (rood) met lichte houtsmaken
Een gemakkelijk wijntje voor elke dag
Pprijs: 8 euro/fles – karton (6 flessen): 45 euro
In Klimax kan je op woensdag, zaterdag en zondag tijdens de trainingen regelmatig proeven. Vraag aan een van de ouders wanneer dit het best past.
Bestelformulier via deze link.
Sponsoring
U kan dit initiatief ook steunen BE98 7885 1800 4893, BVKB/Klimax, C.Verschaevestraat 15, 2870 Puurs. Met vermelding: "Gift Orpierre" Uw naam wordt dan opgenomen in de lijst van sponsors op de Klimax site.
De ouders van de wedstrijdteams
Info over Restaurant Orpierre filip.lemiere@telenet.be
Info over Wijnkelder Orpierre wim@arbol.be