Friday night we arrived and the hall was open. So, we went in and did our business and brushed our teeth. I was definitely tired and my body needed sleep.
Good First Quali
The competition started early and ended late, as always. I went to warm up early before signing up for the comp, so I didn't have my number yet. There were no troubles, but I think it set off my nerves a bit. I asked my dad for money and signed up by myself. Every participant got a knitted ski bonnet and a cookie. In Arlon everyone always gets presents just for competing. I was a bit nervous. I had to climb first and I had this whole thing with my number that I didn't get from the beginning. So I read my route very thoroughly and then closely observed the demo and then I had to start. I tied my shoelaces and made my climbing knot. I was ready to go and my belayer was also ready. I had to wait a little bit because at the other side of the fries bag or cone (in Dutch we call it a fries bag because it looks like a fries cone on the wall) there was a climber and our routes came close to each other. So after waiting, they told me to start. I was nervous. I had to stop a few times during the route to calm down my breathing and to stop my legs from shaking. I was very good in the route and I could calm myself. At the end it was difficult, but I managed. I managed to top and was so glad that I was myself again or a new me, at least a positive me.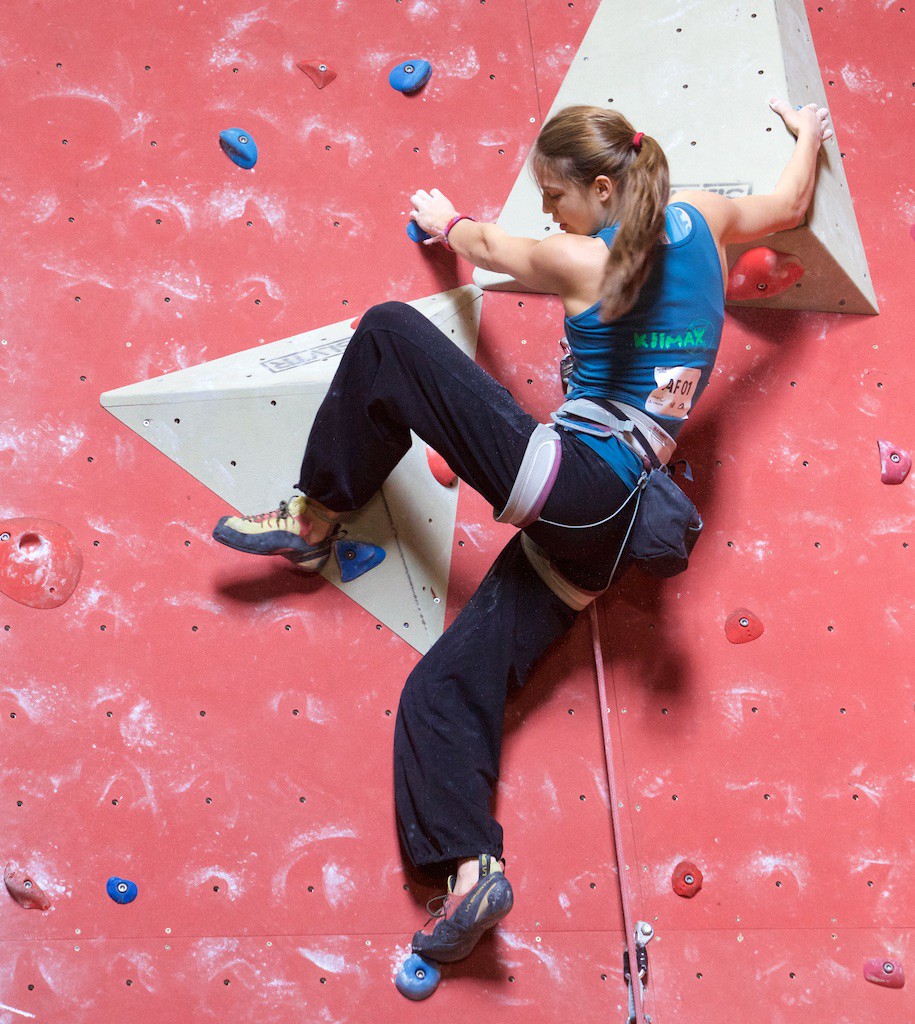 The Second Not Worth Spending My Time On 
My performance is not worth describing, but that does not mean the others climbed bad. In the first qualification I haven't seen anyone climb. So I can't tell you much about that. But I asked around and Héllo topped just like me and Elfe fell somewhere at the end. For the others of Klimax: Laura-Anne did great. So did Raf and Inne and Lotte. Now the second qualification. The first climber that I saw was Héllo. She topped. The second climber was Elfe and she fell at the last quick draw. I didn't do good. Let me tell you that everyone except 2 people fell above me. I was not very good in it and I wanted to top so badly that I fell. I pushed the thought of the bad qualification out of my head and enjoyed the feeling of freedom before isolation. It is best not to dwell on the bad performances. It makes you sad and makes you feel like you have already lost. I went on and acted like I had the best performance of the year. Like that I climbed the finals.
The Finals 
Reading the finals was weird. It was a difficult route with a lot of questions. I read and read with Elfe and Anak and Laure-Anne and read again. In the boulder we discussed the route and we had a lot of questions and it was a chaos. The chaos died down and we all had parts of solutions and not really completely answered questions. Then for distraction, me and Elfe sang songs and made songs about climbing and talked a lot to get every sound of the competition out of our system. But soon we would be in the midst of the competition and the spotlight would shine on our faces. I was nervous for the first half and the last half of the route. I started and I had a feeling that the first half might be better then everyone thought. I was very careful in my route. I had to rest halfway again to stop my legs from shaking. Then I found a knee bar (and a week later I still had a scrape wound). The knee bar kept slipping away. I moved higher and then put the knee bar better. There, I tried several times to get higher, but I didn't find a way. With the knee bar I rested and stayed there for a long time. So eventually I tried something and was down in a second. That was kind it, for me at least.
Zizi's Mail to Céci
Hi Céci, I've really missed you and therefore I was happy that there was life streaming, so I watched the competition with a bunch of mates. It was like a film day and we had chips and cake and a lot of other snacks to get the feeling that we were there in person. The life streaming itself was not of a very good quality so we had to survive like we were in the desert, with no water. Haha, anyway I wanted to say that I have again risked my life trying to type this message. You have no idea. But apart from that, it is worth the risk if I can tell you that it was an amazing competition and that next time I will definitely be there in person. I am already planning the holiday. I liked watching the competition. Contrary to my mates who got kind of bored, so we started playing a game of cards. Sorry that I missed your second qualification because of that, but my mates said it wasn't worth it. In the finals you were stuck there weren't you? You gave up and I don't like that. You should have used your brains then and not your body's will to quit. I liked the competition and apart from you, the other climbers have climbed amazingly good and I definitely saw that some climbers from Klimax have made progress. They're doing great and the climbers are fighting for the top. Keep on training.
Fly high!
Zizi Chalkdust